Tom Lyons
Sales Director

It was just something that I had to go for when the opportunity arose for me to set up a small used car dealership in my hometown. After spending twenty-one years living in Ashby it seemed a perfect opportunity to open my own business in a place that i'm most familiar with.

I went into a sales based role at an early stage of my career and have since sold kitchens, bathrooms and gym based memberships. I always felt that the skills I had developed would suit the motor trade and a sales based position within it.

During my spare time (when I get any!) I like to support my favourite football team whom I've followed for the past 18 years. Emma and I also enjoy international cuisine and dine out regularly to experience different dishes from around the world. I have plenty of local recommendations…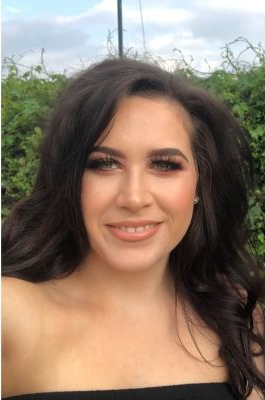 Emma Topley
Director

I let Tom deal with the daily running of Castle Prestige as I have my hands full with other commitments. I am currently employed full time as a Garage Administrator in the same Business Centre as Castle Prestige, so I am here when Tom needs my input. I have been in the Motor Industry for the last 7 years working at a company that my parents set up and ran for the last 23 years, up until November 2018 when they parted ways with the business.

On the side, since 2017, I also run my own Makeup & Spray Tanning business. It has grown over the past couple of years and I'm looking forward to carrying this on further towards the end of 2020.

Customer Reviews
Here we have a selection of our Happy Customer reviews. However, if you check out our Google, Facebook & AutoTrader pages, we have over 50+ combined 5... Read More
GOOGLE - FACEBOOK - AUTOTRADER
A very friendly and efficient service received today. Everything was very well explained and I would be happy to use them again.... Read More
Tracey Root
Very helpful with all questions. Tom was always quick to help out. Advert and pictures were accurate. Car is great!... Read More
Tom Baird
Not your pushy sales type. Family run business. Great service
Susan Price
A welcoming and confident experience purchasing our daughters first car. They appreciated how important this was to us from a safety aspect. The whole... Read More
Lisa Turner
All the guys at Castle Prestige were very helpful in helping me get back on the road after crashing my old car. I went in and they gave me honest info... Read More
Hayden Mabbott
Extremely friendly staff, very helpful, and always looking out for your best interest... Read More
Jithin Mullappillil
Excellent service from start to finish, really helpful and friendly.
Louise Parry
Thank you for sorting us out with our recent Corsa, purchased from yourselves. You were very helpful and obliging, and warrant the good reviews. Rober... Read More
Robert Higgins
The whole process was made so easy! A really good experience with a really helpful frontline salesman - will definitely buy from this dealership again... Read More
Helen Wright
Have just returned home with VW Up - love the car.The purchase was a pleasant experience. We did not feel we were at all pressurised. All aspects of t... Read More
Christine Meadows
I purchased my ford grand cmax from castle prestige and I was really happy with the service that was provided. I think it's quite rare these days to... Read More
Nick Sadra
Very courteous, helpful and obliging,would always recommend them for cars and garage services!... Read More
Neil Hicken
Great, friendly service and great cars at good rates with friendly staff.
Thomas Skelding
Great! Purchased a car from Castle Prestige recently and I couldn't be happier. When I collected the car it was cleaned to high spec inside and out. T... Read More
Lianne Norman
The gentleman was polite, listened to what we wanted and talked us through the car we had chosen. Great car and great service. Was extremely helpful a... Read More
Sancha Byrne
This is a family run business and the salesman could not have been more helpful and curtious and not pushy at all like some other dealerships we have... Read More
Linda Ford
I had a wonderful experiance with castle prestige.Everything was conducted in a friendly professional atmosphere.The sales team from top to bottom wer... Read More
Jim Marshall